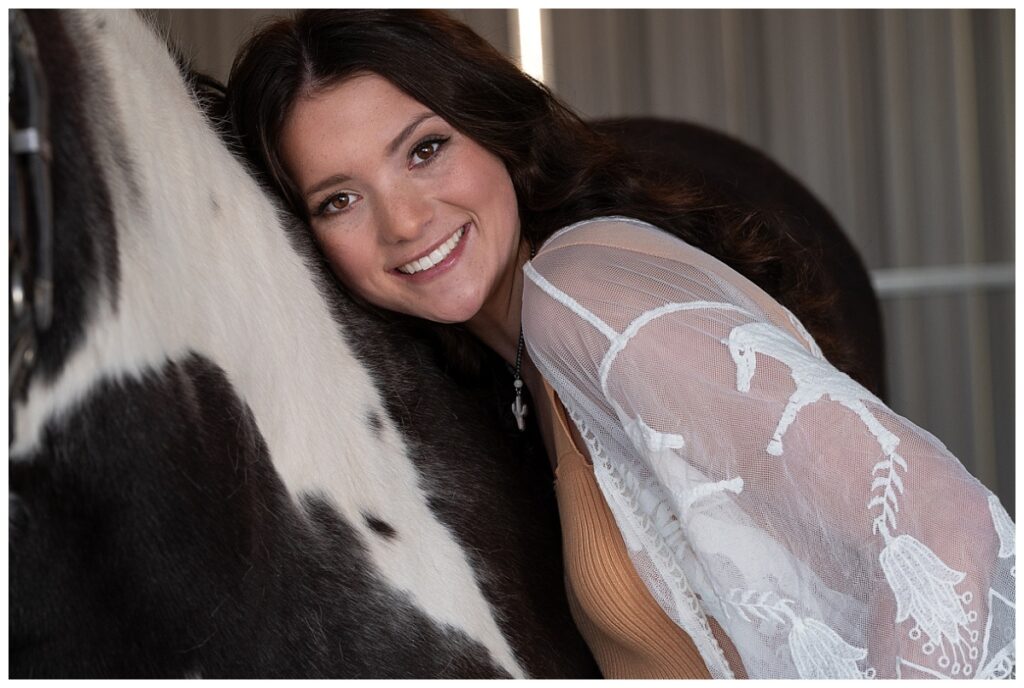 High-spirited students, their fun poses, and the lively energy they bring to the scene – there's a lot to love at a senior portrait session as a photographer. Usually longer in duration, these sessions always get me excited. And I absolutely love creating these portraits! The best part? Interacting with so many incredible young minds and getting a glimpse of their dreams, lives, and aspirations! Every individual has a unique persona, and I try my best to make their portraits match the vivacious spirit these young souls bring to the session.
Meet Rylee!
I've known Rylee, now a senior year student of the class of 2022, since she was just 9! Her mom and I used to work out at the same gym around the same time every day and got to know each other. And our shared interests made the portrait session all the more fun and exhilarating. Now, are you wondering what I, a photographer, and Rylee, a high school senior, have in common? It turns out, plenty! To begin with, her love for horses! It was a delight to learn that this bright student shared my fondness for these captivating animals. So much so that she wanted these equine beauties to be a part of her senior portraits. Since she didn't have her own horse to bring to the session, she requested to use mine. And I gladly obliged.
What's more? Rylee shared that she and her family have a great liking for camping, especially, at Sand Mountain. Also known as the Singing Mountain, the Sand Mountain in west-central Nevada is a recreation area eyed by many adventure lovers and even makes for a great spot for photography. That's also one of the reasons why even I love frequenting the place. While conversing with Rylee, I also learned that she enjoys riding various vehicles on the dunes on most weekends. And I was happy that I would get to photograph those moments as well, but more on that later!
Rylee is a longtime volleyball player in school and in club volleyball, but she decided she didn't want volleyball to be the the focus of her senior portraits. Rylee will be graduating from Spanish Springs High School in Sparks.
Senior Equine Portraits at my Home Studio Barn!!!
I just finished my new barn at my home in Spanish Springs, and so I used it as a studio along with my horse, Pancho, as a model (a great addition to the shoot because of Rylee's love for horses – like I already told you). Even though Pancho was around Rylee for the first time, they got along great and Pancho stood nicely for most of the session. After she was mounted on the horse and struck a cool equestrian pose in a dress on a chilly evening, he decided to take off trotting! She only had a halter with a lead on one side but was able to take hold of him. Kudos to her spirit, I say!
Senior Portrait Photography at Sand Mountain
On the day of the session at Sand Mountain, Rylee was accompanied by her parents Kasey and Siobhan. And guess what? It was the weekend of Rylee's 18th birthday party (talk about great timing!) while they were camping with their family, and they invited me to stay for a wonderful grilled tri-tip dinner. And I am so very thankful for their generosity! Rylee sure has a cheerful aura. I could make that out from her exuberant energy and the multiple outfits she planned to wear for the shoot! And there's absolutely no doubt that all of them were on point!
Circling back to Rylee and her love for riding OHVs. She has driven these vehicles for years and loves playing in the sand! Unfortunately, the vehicle actually broke down at the spot before we started, and they had to tow it back after the session, a bit of bad timing! However, I still managed to make the most of it by directing her to pose around it. The images turned out great, and need I say – "Rylee, you are such a natural when it comes to posing!" And a thoughtful planner as well – the tie-dye T-shirt she wore said "brunette and boujee", and guess what, she recently dyed her hair dark. Coincidence? I beg to differ! 🙂
As much as I enjoyed the entire photo session, as a photographer, the sunset hour was my personal favorite! Just as the sky turns crimson, that's when the true magic unfolds! And quite a planner that Rylee is, she had just the perfect attire (a gorgeous tangerine gown) to blend with the mood and tone. This ravishingly pretty lady looked nothing short of a desert rose amid the ripples of sand dunes, for sure! Even though behind the scenes, she was totally freezing, you could hardly see any of those shivers spoil her pose or expression before the camera. Rylee, you go, girl! Your senior portraits were as unique as you are. And I loved every moment I spent creating these lovely images of you.
A Luxurious & Custom Portrait Experience With Sierra Elegance Photography
Kasey and Siobhan (Rylee's parents), thanks for trusting me with photographing Rylee's senior portraits. And Rylee, you are such a vibrant soul and a delight to photograph. Just continue to be your natural self. I hope I did justice to your expectations and could match your energy! Here's wishing all the best for the years to come!
Hey, you! Hope you enjoyed reading this blog! If you wish to plan your next photo session, feel free to contact me or call me at (775)745-0445 for a complimentary consultation and plan further. Let's discuss your vision! I am all ears. To learn more about my photography style and services, check out my Facebook, Instagram, and Pinterest pages.