A lot of women think because they are not into wearing lingerie, or maybe their partner doesn't really care about it, that they can't do a boudoir session.
I want to give you lots of ideas for things to wear besides lingerie that will make you look beautiful, feel like your true sexy self, and not have to buy things you don't even like and will never touch again!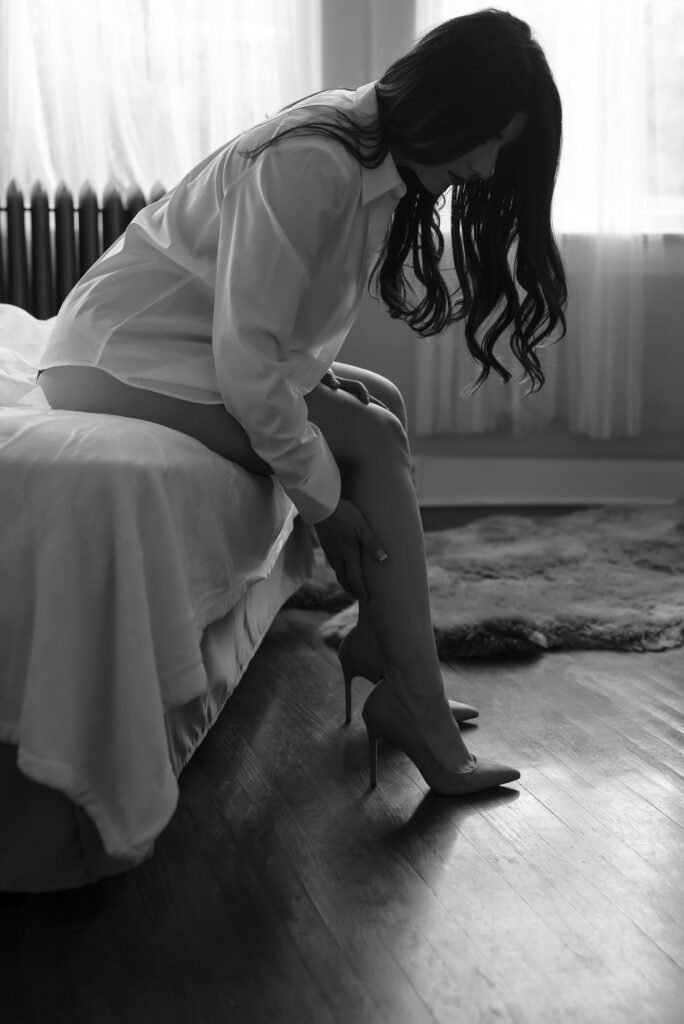 A crop top- wear a sexy top that bares your midriff and that might be too scandalous to wear in public! Pair with pretty panties that are your style, short shorts, or nothing else!
Jeans- wear your ripped jeans or your dressy jeans, whatever suits your personal style. Pair with bare feet, boots, or stilettos
Bodysuit- these are some of my favorites! They are available in so many places and so many variations that work well. Anything from lace, sheer, solid, strappy, long-sleeved. They all look great and flattering to every body type. You feel a little covered in all the right places. See my Amazon wish list for lots of suggestions.
Boots- what boots do you love? Thigh-high stilettos, cowgirl, blingy, biker? Let's talk about what goes with them!
Sports gear- let's be honest, I don't love photographing girls in jerseys. They are big and bulky and not that flattering. But you can still bring them and they can be used as a prop for sure! I recommend tight t-shirts and crop tops with your favorite team that just barely cover you. Ball caps or beanies might be OK at the very end of your session as well. You can bring balls, bats, etc. if it's super important to you or your partner, but I don't do a lot of "props" usually.
Jacket- if you have a leather jacket, blazer, etc. that can be a dressy addition to your wardrobe. Wear a lacy or strappy bra underneath or nothing at all.
Business attire- fulfill a little fantasy with a business skirt and blouse with pearls and start slipping them off.
Fishnet stockings– ok, these are lingerie technically, but you can pull them on over a pair of panties or bare, and they are a great outfit all on their own! Easy and hot!
His shirt– I recommend a solid color shirt and only if he's not twice your size! There are lots of ways to use a shirt but I try to make sure it doesn't add to much bulk and it's still flattering.
Body chains– a lot of ladies have never considered this idea, but body chains are readily available on Amazon and add a lot of depth and dimension to simple outfits like bodysuits, or add texture to skin with nudes. Very pretty and elegant!
Bridal– most brides default to white lingerie, but you can use your wedding wardrobe to add beauty to your boudoir session. Definitely your veil if you're wearing one and your shoes. Many times I will hang the bridal gown to show in the background of the boudoir set. You can even be stepping into your gown with many sexy poses at different angles.
Sheets– I do a lot of poses with white sheets that every woman loves, but you are welcome to bring the sheets of your choice! I recommend queen size so the fitted sheet can go on the bed, and you can wrap up in the flat sheet as well as using the pillowcases. Ideas that work beautifully are gold satin sheets, turquoise or teal, and even black!
Wings! We have gorgeous couture wings available for rental in a flattering blush color. They will truly make you feel like a celebrity and supermodel all in one!
Hats– only if they are truly YOU, but a hat can be a fun add on. Maybe you want to go for a steampunk or boho style?
Skirt– we have a lot of flowy tulle skirts available for a truly romantic look
A comfy sweater– it can be really sexy to wear a sweater that falls off your shoulders but looks pretty at the same time
A cocktail dress– how about your favorite elegant dress that you never get to wear? It's a great way to get warmed up for your session too!
A fur– wearing a real or faux fur jacket or vest can make you feel extra elegant
A bathing suit– it might sound weird and it needs to be the right style, but swimsuits can be flattering and hold you in. They can also be great for pinup!
Shapewear– some shapewear looks good all by itself, and don't forget to look at vintage shapewear if that's your vibe.
BONUS!!! Wear NOTHING at all!!!
Here are a few ideas for you below!
If you haven't already, join my private VIP Facebook group for more ideas and interaction, and a chance to win great prizes! https://www.facebook.com/groups/sierraeleganceboudoir